Concertino Burro e Salvia hits the road since 2002.
The band performs a pleasant collection of traditional Italian songs from the first decades of 20th century. Everything is played in a perfect old fashioned style, with traditional clothes and acoustic instruments, like in the traditional "concertinos". The music is a mixture of Italian "bel canto", a little swing and a contagious sense of humor.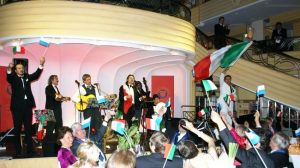 Concertino Burro e Salvia performed in many events in Italy and abroad, included music festivals (Ferrara, Certaldo(FI), Veszprem, Hungary), private parties (like weddings and conventions) and prestigious historical sites like Piazza del Popolo in Rome, Park of Biennale in Venice, Paestum, S. Giusto in Trieste, Teatro Pergolesi in Jesi, Teatro Gentile in Fabriano, Bayerischenhof Hotel and Kloster Andechs in Munich…
The story of the Concertino includes the theatrical piece " 78 giri " and an essential compilation of songs recorded in two CDs, introducing a part of the luminous tradition of italian canzonetta.